Bitch, I said, "I do not like green eggs and ham!"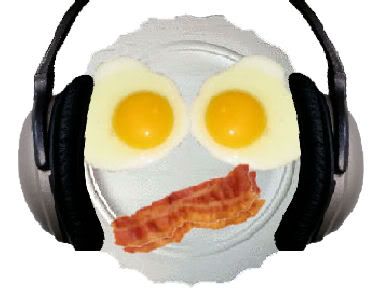 I've designated Sunday to be "Big-Ass Breakfast Day". I thought up that name yesterday, only to realize that my shift changes at the end of this week (again), and my new days off are going to be Tuesday and Wednesday. Thus, further fucking up my concept of days of the week. It's such a downer when Friday rolls around, but I'm thinking, "Today's not actually my
Friday
...um, Monday is?" Then my brain explodes.
I suppose what's going to happen is that I will have to re-assign B.A.B.D to Tuesday, which on the whole might just work out for the best.
See, I've streamlined my morning routine and making breakfast doesn't regularly factor into the plan, because I like to check my email at least once before I leave for the day. It's all about the priorities.

But on the first day of the "weekend" when I'm off, I like to make a big breakfast, with the works...eggs, bacon, hash browns, big fluffy pancakes. The only problem is that I can't just make a big-ass breakfast for one...I have to make a big-ass breakfast for up to 5, which isn't so bad once you get everything going...but my laziness overrides my willingness to impress my sister with my bomb pancake recipe (so light and fluffy, I tell you).

I've recently managed to overcome this problem, because a diner opened up down the street from us. You can call ahead to order and ten minutes later, you pick up the tasty vittles via drive-thru window. It's awesome, slightly pricier, but awesome.

Last Sunday, in an attempt to save some money, I decided to get up early and actually cook myself a big breakfast. However, I realized we didn't have any syrup, so I made a quick run to the store and by the time I got back my dad and my sister were already awake...and hungry. Spending the better part of the morning in the kitchen is not way up there on the list of things I want to do on my day off.

Wow, I feel pretty sorry for you if you sat there and read all that crap.

Also, I am unsure of the amount of updating that will get done this week. Because Shitty Thanksgiving Shift + Shift Change + Mandatory Overtime = One Unhappy Raven.

But you can check out this little dealy if you're stressed out/bored:
Fly Guy

Or this site:
e-Closure

They'll both help you feel better in totally different ways.