Today is all about Kelley...with an "ey"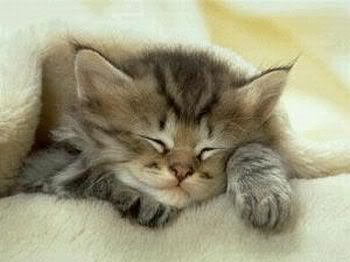 This morning I realized I don't have any recent pictures of my friend Kelley, who turns 25 today. Then I thought I could just scan a picture of Crew 52 from after our high school graduation and I could point her out, but I have a horrible case of "cap head" in that picture (incredibly selfish, I know) [EDIT: Oh what the heck, check it out for yourself below]. So, I settled for a picture of some sleeping kitty, cause she's worth it.
Kelley hasn't ever gotten a write-up on here, even though she's been reading/lurking faithfully for over a year and some change (and despite a feud which lasted from grades 7-10)
Anyway, we've since patched things up and she's one of the best friends a girl like me could ever hope for and I just want to wish her all the best...
and reiterate that I'm not avoiding her...on purpose.
2 Mulattos + 2 Kellies + 2 Trans + Patricia = Crew 52