Sucker...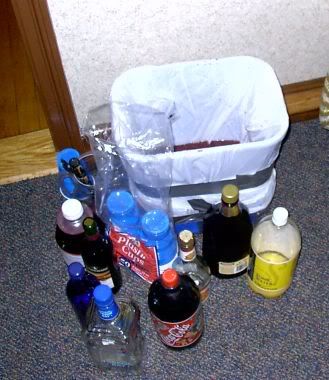 I'm kinda flipping out. To counteract the jitters, I've been drinking.
Packing up and leaving never really gets easier...I've been told by this time it should be pretty much old hat...whatever that means. I haven't actually started the actual "packing" process as yet. All my shit is just still sitting next to my suitcases...I'll never learn.
Anyway, I tried converting the following video to something other than a real media file, but it still ended up looking like shit, so I'll just link to the file right
here
. It also kind of explains how I got the name for my blog. Gotta love those old SNL references, right?
I dedicate this post to my sister Robbyn. Over the last nine months we've made a pretty good team. It's been crazy at times, to say the least. However, if everything goes to plan, she'll be the first person to visit me and she will be most welcome.
A few weeks ago she asked me for my recipe for sangria (hence, the picture above). I explained to her that it was not so much as a "recipe" than a random mixture of red wine, liquor, fruit juice, sugar and fruit chunks. However, I consented to revealing my secret to her.
Needless to say, it was a blast to the past. I thought of the day that Karyn and I wandered around Ottmarschen trying to find a store that sold a giant punchbowl-type container for a birthday party (some of you may remember this party as the one where the beer ran out and was replace with Neptune beer). Having failed in our mission, we found this florist who donated a giant flower/plant holder for our cause. We washed that bitch out...and made a giant batch of sangria in that mofo.
Done right, sangria tastes like fruit juice...but it will eff you in the a. Not literally, well...maybe if you drink enough...but I'm not trying to go there.
My secret recipe served me quite well, though. It was cheap enough to produce en masse (in garbage bag-lined Smith College recycling bins) and potent enough to get underage first-years wasted.
The residents of the 3rd Floor Jordan Platform were wise enough to purchase (and horde) their own "good" alcohol and charge visitors to the party a donation to drink alcohol from a glorified trash can...and delicious chicken wings were purchased from the profits.
Mmmmmm...chicken wings...