This will be me tomorrow. Well, if I were made out of legos, that is.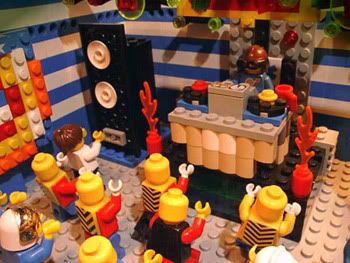 Do you like hot music?
Do you like reasonably-priced drinks?
Do you like getting good n' saucy, whilst shakin what yo mama gave you?
Most importantly, do you live in Hamburg, Germany?!
If you answered "yes" to any of the questions above (ok, well at least that last one), then you should get your ass to
Rudolf-Laun-Haus
tomorrow night, where I'll be behind the wheels of steel from 10pm - midnight (followed from midnight - 2am by Andre) and slingin' dranks from 2:30am - 4am. If you say the secret phrase when I'm behind the bar, the drink's on the house...