I had this whole Shitty Metaphor post lined up, but then I got home from work and discovered that
Lady Etch
had sent me some of the pictures she took on her cell phone on Saturday at the Hamburg
Christopher Street Day
. So, I'm scrapping the aforementioned post and writing about all the fun that
Lady Etch
and I have whenever we hang out -- sometimes this is much to the dismay of her boyfriend and my arch-nemesis
S.A.M. III
, who always seems like he's looking for some kind of escape route.
Lady Etch
kinda reminds me of my sister
Pickles
, except vegetarian and with fewer weapons, and she would have made one hell of a Smithie (and I actually mean that as a compliment in this regard). Anyway, we get together and toss back a few cold ones every once and awhile...then we get loud and belligerent. She's a little bit louder, I think...but I might be more belligerent...it's a tough call, really.
(
Click Below for More
)
So, Saturday, I get up extra early (for a Saturday that means around 9:30am) so that I can pick up some delicious basil-garlic-cheese spread (yum) from the market and meet up at

Etch's

place around 11:30am. Somehow, I did not even get there until almost noon, but still managed to squeeze in a delightful breakfast with

Etch

and

S.A.M.



After breakfast,

Etch

cracked open a bottle of Prosecco and, after its consumption, we headed out. We may have spent about 1/3 of the day looking for restrooms where we could go pee. At one point, we decided to go to the restrooms in the subway, which cost 50 cents and

Etch

was outraged. She was like, "You pay and I'll just squeeze through the turnstile with you." I was skeptical, but it worked and we got two pees for the price of one.

For the better part of the day,

S.A.M. III

tagged along behind us looking like some kind of unamused chaperon. However,

S.A.M.

(as adorable as he is) only really has two facial expressions: mild amusement and menacing. He thinks he's too cool for school...but I've got a newsflash for you, Walter Cronkite...you aren't. However, eventually I think he'd had enough of our shenanigans and ducked down into a subway station and ditched us. Too bad for him, because

Etch

had the keys to her dorm room where he was staying and the two of us felt the urge to get ice cream.

Later, we met up with

S.A.M.

back at the

Girlie Dorm

, where

Etch

lives. I crashed out on the common room couch for a bit and tried to get my second wind. I had a bite to eat, a shower, and finally some more beer...but I was mostly just plain tuckered out.

I sucked it up and went to the Mobile Blues Club, which is starting to be one of my favorite Hamburg locations. Though word is getting around. I had

Olleg

request the song "Wanted Dead or Alive" for me. The dude pretty much only knew the melody and the chorus, and kinda just freestyled the verses. Anyway, it kinda made me think of this video:



I dragged myself home around 2ish, slept in-ish, and then ate meat, drank some more beer and worked on my tan. I watched Hot Fuzz again before going to bed. My life is awesome and I'm so photogenic. Here are pictures of me looking adorable:




My second beer and I'm still cute as a button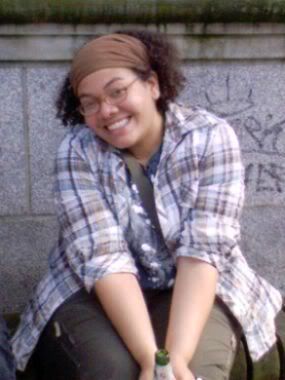 S.A.M. III

is not amused by my antics. I was trying to give him the so-called "bunny ears".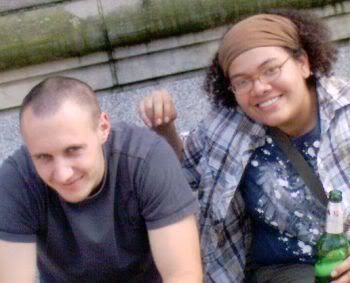 However, notice how much more excited he looks in this picture. Also pictured:

Buche

. His sobriety level is debatable. That is actually his normal facial expression.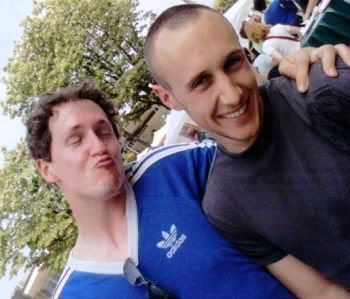 I think here's about the point where I switched to a combination of drinking sparkling wine and Astra Rotlicht. And

Etch

said, "Ooh you're so photogenic!" and I said, "How 'bout now?!" and made this face.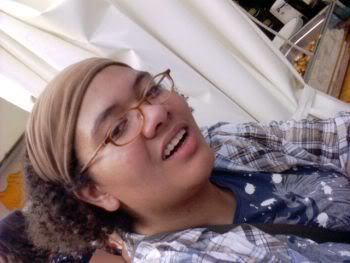 Then she made me retake the photo...this time, like I meant it.
I wanted to take a nap on this Drag Queen's boobies. They were surprisingly soft. Also, I was very tired and drunk by then. Oh...and short...I'm oh so short.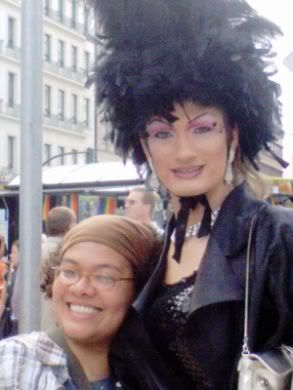 However,

Etch

was again dissatisfied with my apparent lack of motivation. I aim to please...so I pulled out the jazz hands. I look surprised...and a little bit mentally handicapped.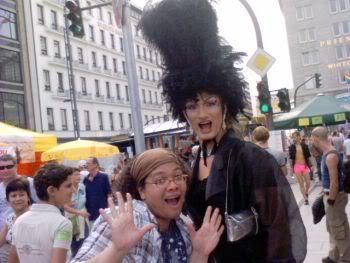 The End.

*jazz hands*