Only when I'm drunk, son. Only when I'm drunk...

A series of unfortunate events has led to me spending more time than usual with my younger sister (you know, the crazy-eyed one). Not that I find this to be totally awful or anything.
Anyhow, Cristal really likes shitty reality TV shows, whereas I (for the most part) abhor them. Still, I'll watch them when my sister and I hang out -- and in return, she'll sit through a half an hour or so of me watching CNN.
When I was visiting Katie in NYC, we happened upon the new reality/performance/whatever-type series on FOX entitled So You Think You Can Dance. If you haven't seen it, it's like American Idol (or its German equivalent, Deutschland sucht den Superstar) but for dancers.

If you thought watching people who think they can sing (but can't) was funny, watching people who think they can dance (but can't) is 100,000 times funnier. However, I usually never make it past the try-out shows...since talented people aren't at all amusing to me (unless they're talented comedians).

As usual, I digress...

Cristal informed me that one of her girls from high school, Destini, made it into the Top 16 on the show.




That's her, back in the day.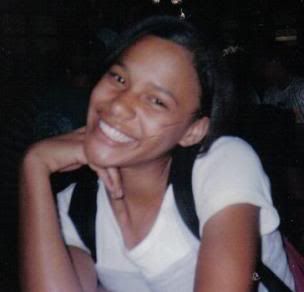 I remember her, not only because she was a friend of my sister, but also because she was in my Tech Theater class when I was in 11th grade...and we talked about how I was Cristal's older sister. Pretty exciting, huh?

You think the fact that someone who is from Oklahoma City and a friend of my sister would make me be more interested in the outcome of this show. But really...it's hasn't. Tonight I watched it long enough to see the pre-recorded interview with Destini and then I just changed the channel.

No offense to her or anyone else on the show intended. I just would rather put out cigarettes on my forearm than watch people sing or do dance routines.

Still, Destini is cool. So, if you're the type of person who likes to watch and vote on these shows...then vote for her.

If not for me, then for my sister.