Back to the Return of the Son of the Rudolf-Laun-Haus Wohnheimfeier. Part Deux.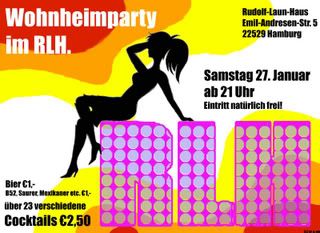 The
re-do dorm party at RLH
is this Saturday. I'd advertise it here, except most of the people who read this don't even live in Germany, much less Hamburg... *sigh*
Anyway, I'll be there and that's pretty much the most important thing (ever in the history of anything). This time I managed to get the primo #2 DJ-slot (since
Andre
unfortunately has to work on Sunday and can't make it). His dark cloud = my silver lining.
At any rate, should you find yourself sans plans Saturday night, I will be behind the wheels of metal, plastic and "lasers" (also known as cd players) from 11pm-1am and slinging the 'tails from 2am-3:40am. Stop by if you want to, or not. It's up to you. Feel free to write your own individual excuse for not being able to make it in the comments section. No pressure, I won't judge you.
In fact, I'll (like for really seriously, this time) take pictures, so that you can feel like you were right there!!!!!!!!!!!!!!!!
!
All I ask is that you keep it in mind that I might need some DRT (
Doener Recovery Therapy
) on Sunday.